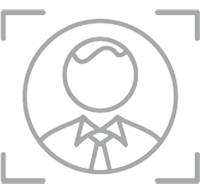 High-Potential Assessments That Identify the Right Employees
Too often, organizations mistake high-performing employees for high-potentials. Working with you, we define your company's high-potential criteria, then assess current employees against those standards.
Accurate and reliable, our high-potential assessments identify your company's most promising talent. Utilizing a variety of tools – from self-service resources and 360° surveys to personality tests and in-depth interviews – we evaluate employees for their high-potential traits and fit with company culture.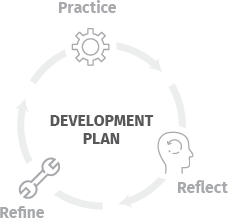 High-Potential Development That Targets Behavior
Our high-potential development plans are customized to align with your company strategy and personalized to the participants' needs. They target next-level skillsets through the creation of new behavior. Rooted in how the brain learns, our plans follow a three-step process:
Practice targeted behavior
Reflect on the experience
Refine the path forward
High-Potential Solutions for Many Needs
Our scalable high-potential solutions include options that range from self-service resources to high-touch executive coaching.
Development
resource guide
A self-service tool that includes development best practices, on-the-job actions and challenges, tips and worksheets, and exercises for the employee and manager
A six-month virtual development solution that provides personalized development support and one-on-one coaching
Three months of executive coaching and calls with a Vaya coach, combined with three months of virtual coaching
Six, nine, or 12 months of one-on-one engagement with a Vaya certified coach through video or phone calls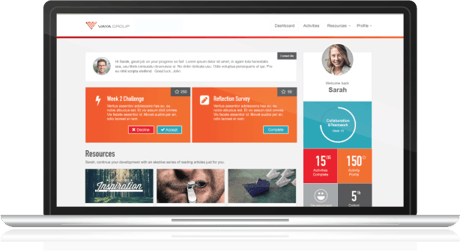 Vayability:
Virtual Development
for High-Potentials
Often, only senior leaders are given personalized development. Vayability allows high-potentials at all levels to reap the benefits of one-on-one coaching.
Tailored to the individual, Vayability is a six-month virtual program that offers accelerated development. It focuses on developing new habits and learning the process for acquiring them, in order to support success after completion. Vayability features:
An assigned coach who sends weekly challenges and resources for targeted habits
A personalized dashboard with anytime access to challenges, resources, and feedback
Just-in-time coaching calls to discuss practice opportunities and upcoming challenges
A dashboard for managers to view development activity and progress
A point system for completed tasks
Measuring HiPo
Development
From the outset, rigorous goals and milestones are clearly defined for high-potential development. Through pulse surveys of stakeholders such as managers and peers, we then track and measure success against those benchmarks.
For many companies, success is measured through continuous progress, the accumulation of skills needed for larger roles, or increased promotion rates.