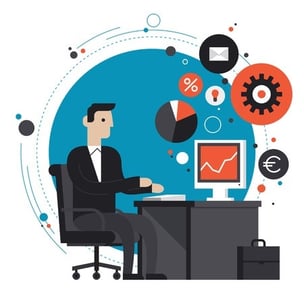 As organizations invest more in their people, it's becoming vital that talent initiatives be connected to HR analytics and other business drivers. Talent data provides a more tangible way of measuring business-focused outcomes. However, using talent data analytics to measure overall impact is still a fairly new practice in talent management.
Link Individual Talent Data To Organizational Metrics
Different forms of talent assessment – such as measuring employee competency, overall engagement or job satisfaction – can be done effectively at the individual level. However, it's often not until later (if ever) that an analysis is done to see those results connect with the key metrics and performance indicators that drive the organization.
Because clear goals and methodologies aren't established ahead of time, this type of data analysis can be fruitless. During these "fishing expeditions," you're not sure what you'll find, or whether you'll find anything at all. A better alternative is to take a more proactive approach and start tracking and using talent data out of the gate. When applied effectively, talent data analytics can offer your organization a more structured way to gather, analyze and interpret your talent data. Even before the leap is made to compare this data to other organizational success measures, looking at it on an aggregate level can bring immediate value to the development and growth of your talent.
Talent Analytics Case Study: Role Alignment
There are many ways to use talent data to provide support and stimulate talent growth beyond the employee level. A talent analysis can be used to align employees with proper roles to improve performance and productivity.
Consider the following example:
A large publishing organization announced a structural reorganization initiative to better align their sales force with the behaviors and skills needed to be successful in two newly created positions. Their sales representatives were assessed for the critical skills needed in the new roles. That data was then analyzed, and each rep was aligned with the position that best fit his or her selling style.
Without this deeper analysis, the client would have been at risk of realigning its sales force based solely on internal factors, which would have resulted in sub-optimal performance and improper fit to the roles.
Talent Analytics Case Study: High Potential Program
Deeper use of talent analytics can also be utilized to maximize high-potential programs.
An international pharmaceutical manufacturer's high-potential program had been successful in producing viable candidates for leadership positions. After several years of conducting assessments on emerging leaders, they invested in a deeper analysis to enhance mentorship opportunities.
Leveraging data analytics, participants with contrasting behavioral strengths and development areas were matched together to create more effective peer-to-peer coaching. The pairings led to more frequent sharing of best practices, additional opportunities to learn from one another and a more unified focus on leadership development across the group.
Talent Analysis Can Provide Deeper Insights
To be used to its full potential, talent data should always be examined beyond an individual level. When kept at the forefront and leveraged properly, talent analytics can move beyond providing a simple snapshot of your workforce.
When steps are taken to look at data from a broader perspective, deeper insights and conclusions can be drawn upon to foster talent growth, identify training needs and perpetuate development for the future. The important first step is to be proactive in gathering and using this data.