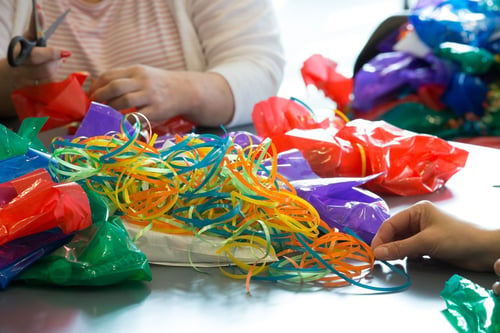 So, what do you get when you have 1000 bags, hundreds of yards of ribbon, a few thousand small toys, and members of Vaya Group's team? You get Vaya's latest community service project!
One of our core values is "Serving the Community" and this time, we partnered with Loaves and Fishes Community Services, a 501(c)(3) charity which has faithfully served members of our community since 1984. Their vision is to end hunger and transform lives in our community - and their mission is to provide food and leadership in the community by uniting and mobilizing resources to empower people to be self-sufficient. They accomplish this by providing everything from groceries and meal assistance to cars, medical help, and professional training. In everything they do, Loaves and Fishes makes a significant impact in the lives of those in the most need.
Many of the families served by Loaves and Fishes are unable to financially cover basic needs such as food or transportation. As you can imagine, they're not able to afford an extra luxury like a birthday party for their children. Loaves and Fishes holds birthday parties for these children, providing everything from presents to gift bags to hand out to attendees. It was an area of need that Vaya was able to help with in a BIG way creating 1000 gift bags for children's birthday parties!
It's often the simplest actions that have the most impact.

Eric Gardner of Loaves and Fishes stated, "We are so grateful to Vaya Group for donating and assembling birthday bags for our clients' children. The joy this brings to both parents and children alike is evident in their smiles and gratitude."
We're always looking for ways to make a difference in our community - keep checking back for the next installment of Vaya Serves!