Optimizing Talent Book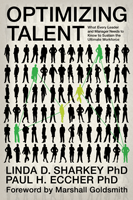 Optimizing Talent is a practical new book by Vaya's own principal, Dr. Paul Eccher, and strategic partner, Dr. Linda Sharkey. It highlights specific actions, tools and techniques to create a Talent Formula that ensures rigor in talent practices. The book is a call to action for managers and practitioners at all levels of organizations to make talent optimization a top priority everyday!
The book provides an integrated framework for diagnosing talent optimization gaps and demonstrates the improved business results achieved by organizations that excel at each level in the framework. The work summarizes research conducted within over 400 companies and demonstrates which talent actions will drive integration and optimize talent. Dr. Eccher and Dr. Sharkey firmly believe that their work on the Talent Optimization Framework, the diagnostic survey and the linkages between talent actions and organizational results provide the platform necessary to make Talent Optimization the top priority for every organization that finds itself looking for ways to compete and win in today's business environment.
In addition to specific data, each chapter includes case studies and a checklist for action. Thus, readers can easily follow through every aspect of the process, learning to implement similar programs, changes or ideas at their own company.
Business leaders, managers, talent practitioners and scholars alike for whom this book is intended will learn to think strategically about people through the authors' insights. The importance of engaged leaders and a supportive culture are addressed, as is a detailed organization operating system—comprised of the building blocks that will create the foundation for high performance talent and the ability to measure meaningful results.
About the Authors
Paul Eccher, Ph.D.
Dr Paul Eccher is a Principal and Founder of The Vaya Group (formerly known as Corporate Insights, Inc.), a consulting firm specializing in leadership assessment, executive development, coaching and talent management. Dr. Eccher holds a PhD from Benedictine University and is the Research Director for its Center for Values Driven Leadership. Before founding The Vaya Group, Paul led a team of talented industrial psychologists who designed and implemented competency models and behaviorally-based assessment systems to assist clients in their talent acquisition, alignment and development processes. He is widely recognized as an expert in executive assessment, coaching for performance and talent management audits & applications. In his over 20 years in the field, Dr. Eccher has studied the characteristics and behaviors of top-performing leaders in well over 100 corporations including General Electric, Hewlett Packard, Northwestern Mutual Life, Campbell's Soup, Sanofi-Aventis, Takeda Pharmaceuticals, Astra Zeneca and McDonald's Corporation.
Linda Sharkey, Ph.D.
Linda D. Sharkey is a Human Resource and Organization Development expert with over 20 years experience in the field. Prior to joining The Vaya Group, Linda has led strategic Human Source Management initiatives in such notable companies as Hewlett Packard, General Electric and Chase Bank. With The Vaya Group, Linda serves as a strategic partner to clients on the topics of Talent Management, Diversity, executive development and HR Effectiveness. In Addition, Linda leads a professional network of Fortune 250 companies and provides thought leadership regarding "next practices" in the area of talent management, diversity and inclusion. She is also a Distinguished Fellow at the Marshall Goldsmith School of Management, Global Leadership Development Center where she teaches, consults with and coaches executives. Linda collaborated with Dr. Paul H. Eccher to build The Vaya Group's Talent Management Framework. Dr. Sharkey is widely published in the area of talent management, leadership development, culture change, diversity and strategic human resources. She has been a presenter and keynote speaker at numerous conferences including the Talent Management Magazine, Linkage, SHRM, OD Network, Women's International Network (WIN), Oslo, Norway and Human Synergistics Conference, London. Linda received her Ph.D. in Organization Development from Benedictine University. Her dissertation centered on the impact of leadership in driving a culture of high performance.